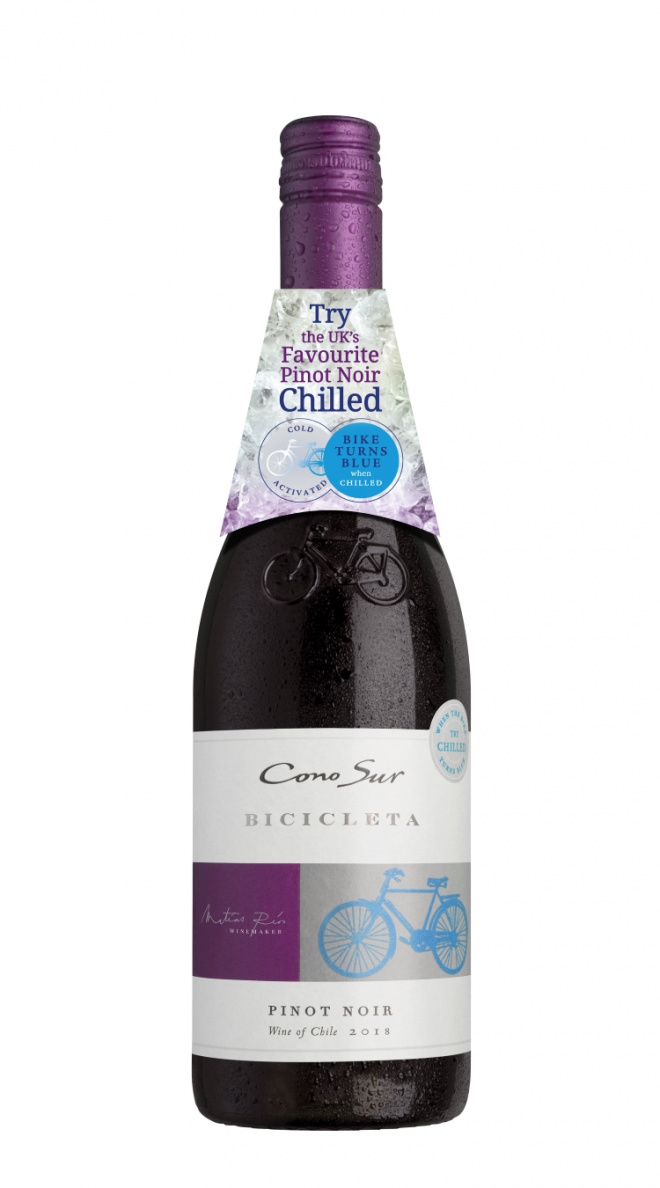 Packaging innovation shows the perfect temperature for a chilled glass of Pinot Noir
Campaign targets the red wine sales under-trade in warmer summers like 2018
IWSC Chilean Winery of the Year with huge consumer campaign
Cono Sur's Bicicleta range growing at 19% year on year in total UK market*
Viña Cono Sur, the winery famed for its award-winning quality, innovation and sustainability credentials is launching a major product innovation to create a new occasion for its red wine during the summer months.
A thermochromic label on the latest 2018 vintage will show consumers the perfect temperature for a cool glass of Pinot Noir to bring out the wine's refreshing fruitiness. The famous bicycle on the label of Bicicleta Pinot Noir turns blue when the wine is perfectly chilled.
Licence to Chill
The new campaign is designed to dispel the myth that red wine can't be enjoyed in warm summer months. James Hick, Cono Sur Marketing Manager in the UK, says:
"Some savvy wine drinkers already know how enjoyable lighter red wines can be out of the fridge in warm weather – we're aiming to spread that message to the whole country via this campaign. We want to give UK wine shoppers a "Licence to Chill"!
"It's an easy-to-understand, fun and engaging label that you can see working in your hands, while focusing wine shoppers' attention to our famous bicycle, Cono Sur workers' way of travelling around the vineyards in Chile."
Over half a million bottles of Bicicleta Pinot Noir 2018 will feature the thermochromic label.