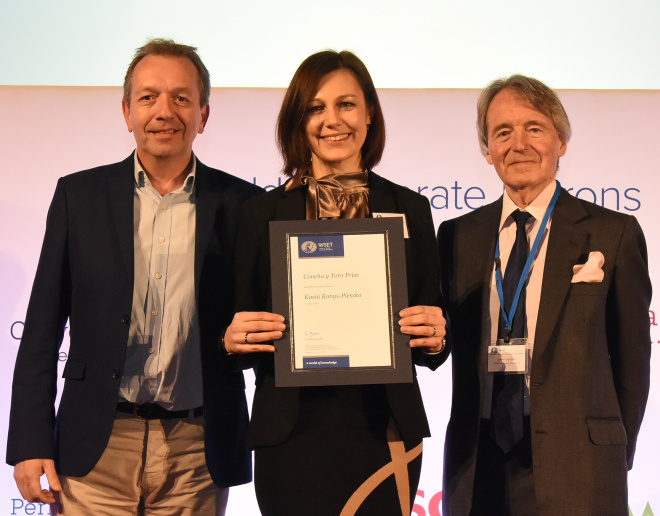 The Wine and Spirit Education Trust (WSET) Awards in London were the venue for the award of Concha y Toro's latest scholarship - a study trip to Chile for one successful Diploma candidate. Kasia Konys-Pieszco, who works at Dunnell's wine merchants in Jersey, wins a trip to visit the vineyards and wineries of Concha y Toro in Chile this autumn.
Kasia (pictured here receiving the award from WSET Honorary President Steven Spurrier and Ben Smith of Concha y Toro UK) said:
"I am delighted that I have been awarded such an amazing trip with Concha y Toro especially as I have never been to South America. During the studies I have learned so much about the diversity of climatic regions in Chile, and how much the quality of these wine has improved over the last decade so the trip will be even more exciting being able to experience it.
"I am hoping to discover how premium Chilean wines have changed to meet international recognition and find some little gems. I am sure there is so much to discover and I cannot wait!"
Guests at the Awards were treated to wines from Casillero del Diablo and Cono Sur at the reception which followed.