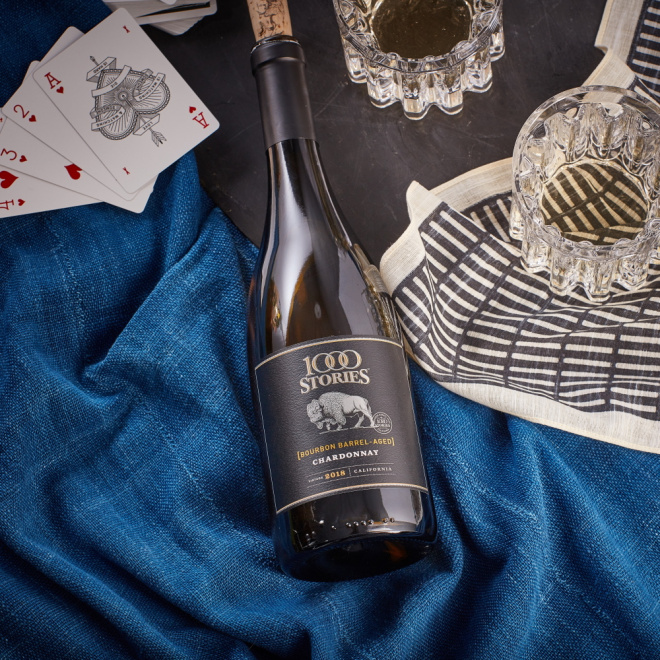 1000 Stories, the California wine brand introduced with great success into the UK market in 2018, is delighted to announce the launch of 1000 Stories Chardonnay.
Like its red Zinfandel counterpart, the 1000 Stories Chardonnay has a portion of its blend matured in used bourbon barrels.
In signature 1000 Stories fashion, the new Chardonnay was aged in traditional French and American oak, with a portion finished in seasoned bourbon barrels before the final blend was assembled.
Overseen by Master Winemaker Bob Blue, this wine reflects the classic California style. Says Blue:
"I love Chardonnays for those green, baked apple characteristics, but finishing off the wine in a bourbon barrel is a great foil for Chardonnay because it adds a richness to those lush fruit flavours. The bourbon notes come through, like vanilla, burnt caramel and herbs, but they don't overwhelm the wine… you get a wonderful touch of the bourbon sensation on the finish."
James Hick, Commercial Manager at Concha y Toro UK who distribute the 1000 Stories wines, says:
"The continued and growing success of 1000 Stories Zinfandel shows us that more and more shoppers are looking for wines with a story and a standout flavour profile. We've been so impressed by its performance and look forward to carrying on this good work with the Chardonnay. The Premium Chardonnay category is growing at 41% so it provides a great opportunity to continue to build the 1000 Stories brand here."