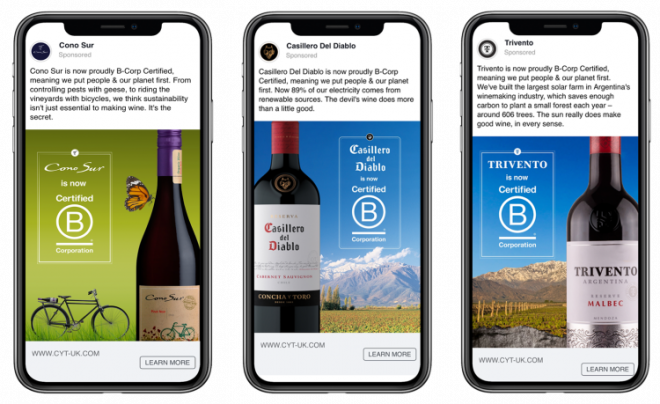 March is designated B Corp month to celebrate the community of 4,600 globally-certified businesses
Concha y Toro's "Pour a glass of positive impact" campaign will feature on social feeds for Casillero del Diablo, Cono Sur and Trivento
15s video will reach an audience estimated at 5 million
Campaign amplified in UK retailer activation instore and online
Viña Concha y Toro was certified as a B Corporation in April 2021
Certified B Corporations have pledged to balance profit with people and planet and believe in doing business responsibly and transparently
We are proud to join the 4,600 other certified companies to celebrate B Corp month in March. To mark the occasion, a raft of retailer activity to highlight the certification is being unveiled, along with a campaign on social media channels for our market-leading brands Casillero del Diablo, Cono Sur and Trivento. A 15 second ad on Facebook will target food and wine shoppers throughout the month.
Vicky Hoey, Head of Marketing at Concha y Toro UK, says
"We're bringing the B Corp message to life through social media and in-store activation. 'Pour a glass of positive impact' is our message to show the wine shopper that B Corp companies are working to use business as a force for good. It's a really inspiring message which we hope will gain in recognition as more and more people discover the community."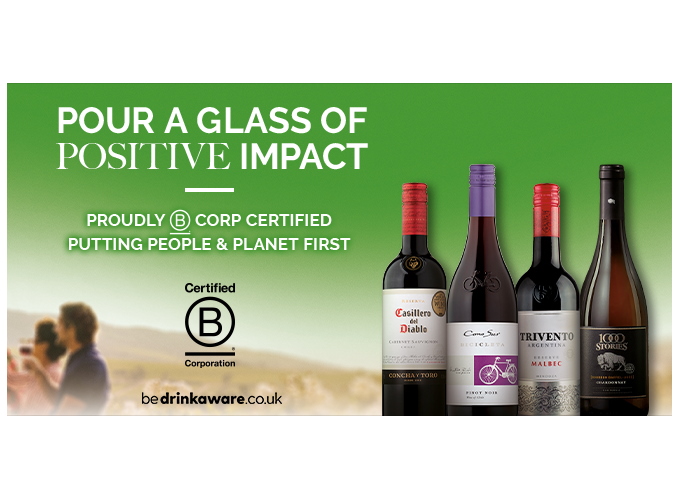 There are 4,600 Certified B Corps worldwide, and more than 750 in the UK alone, across many different industries. Concha y Toro was certified in April 2021 following an intensive two-year assessment of the global business.
To be certified as a B Corp, every part of a business is rigorously assessed by B Lab, a not-for-profit assessor, to make sure it is meeting the highest standards of social and environmental performance. If the business hits a minimum score of 80 points across governance, workers, customers, the community and the environment, it qualifies for the certification. It must also amend its Articles of Association to embed a commitment to considering the impact of its business decisions on all stakeholders. Certification is seen as very much the beginning of a cycle of constant improvement; a B Corp must be re-assessed every 3 years.
Concha y Toro is the largest wine company in the world to earn B Corp certification. For more information please visit bcorporation.uk