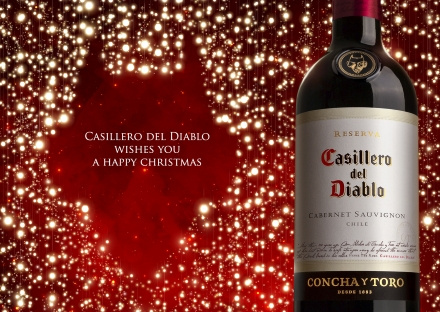 With the release of the latest Nielsen data including the entire December trading period, Concha y Toro UK are reporting significant success for their leading brands. Casillero del Diablo, Cono Sur and Trivento are all in strong value growth and have driven the largest absolute value change in the category, with CyT UK delivering more than £11 million of extra value to the category versus the same period in 2018, in the latest 12-week data.
Significantly, in the 52-week data to 4.1.20, Trivento from Argentina showed an outstanding +49% value increase across its total range, and was worth £50 Million in retail sales over that period. A major contribution to this growth came from Trivento's more premium tiers, with Private Reserve and Golden Reserve supporting Trivento Reserve; Private Reserve in particular delivered almost £5 million in sales, up 85% on the previous year2.
Over the 12 weeks of Christmas and New Year, Trivento has leapt up to 15th position overall in the Top Wine Brands table, overtaking brands such as Echo Falls, Lindeman's and I Heart1 (it was 21st in the table the previous year).
Concha y Toro's flagship brand Casillero del Diablo continues to perform extremely well, selling over 2 million x 9 litre cases in the UK in the 52 weeks to 4.1.20, at a value increase of +13.9% versus the previous year. It has consolidated its position as the #5 best-selling wine brand in the UK2, and also recorded its highest ever household penetration in December, at 9.2%.3
Meanwhile Cono Sur also closed out the year in strong fashion, +22.3% in value over the final 12 weeks, and +19% value over the year.
Clare Griffiths, Commercial Director at Concha y Toro UK commented
"We are so delighted to see the results of a lot of hard work from the team working in close partnership with our customers. The value of following our clear strategy of investing in high quality, inspirational brands can be seen, even in a year which has clearly been a challenge for the whole wine industry. It's especially exciting to see the contribution that our more premium tiers are making, including recent additions such as Diablo and 1000 Stories.
"The brand teams have some even more exciting plans for all our leading brands in 2020, so it won't be a case of resting on our laurels, we're looking for more of the same this year!"