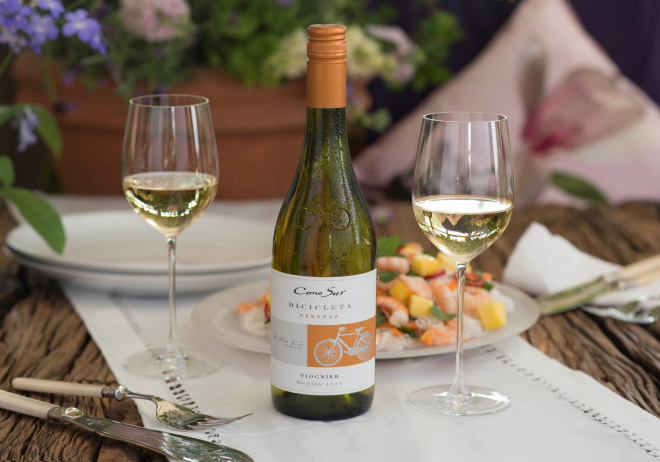 Cono Sur is reporting exceptional sales of its Bicicleta Viognier in UK retail. The latest Nielsen data shows a MAT of +55% in value sales of Bicicleta Viognier*.
Cono Sur was the first winery to plant this aromatic white grape variety (originally from southern France) in Chile in the early 1990s. Their Bicicleta Viognier is the UK's top selling example of the grape, helping to drive growth in Viognier of 18% overall.
The news caps a very successful year for Cono Sur, which has seen its UK sales overall surge by over 15% year on year to £25 Million (and over 350,000 x 9ltr cases)*, thanks in part to a major partnership with Food Network which has been airing its Crafted with Care campaign since April 2018.
James Hick, Cono Sur Senior Brand Manager in the UK explains
"Viognier has been a runaway success among UK wine shoppers in 2018. With Cono Sur's specialty in aromatic varietals, our Viognier has really been driving that growth. Our partnership with Food Network has helped showcase Cono Sur's versatility with food. Bicicleta Viognier is a great pairing wine, and Food Network viewers have had a very positive response to the partnership."
*Nielsen Total Market, 52w 3/11/18