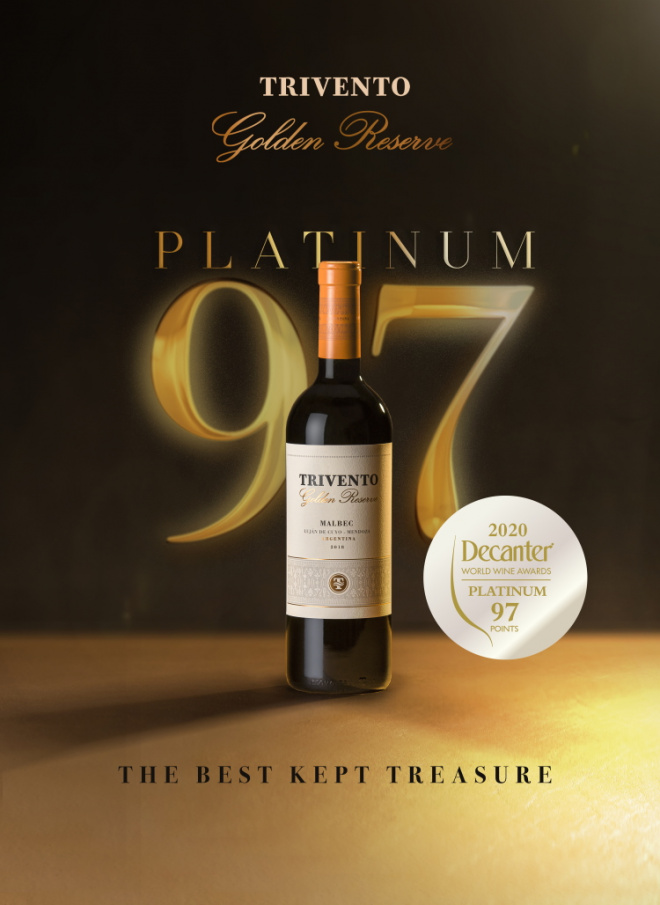 Trivento, Argentina's best-selling wine brand in this country, are celebrating a fantastic result at the Decanter World Wine Awards 2020, just announced.
Trivento's Golden Reserve Malbec 2018 was given 97 points out of 100, making it a Platinum Medal winner.
The Awards, which take place every year and recognize the very best wines from around the world, are judged by some of the wine industry's leading experts. Just 178 wines from the 16,500 wines entered and tasted in the competition were awarded this top accolade. Only 10 wines from Argentina were awarded Platinum medals.
The judges described the 2018 Golden Reserve Malbec as
"Fresh and fragrant nose of lavender, balsamic, plums, thyme, black pepper and sweet black cherries. Nice crunchy graphite texture, with a lovely core of fruit concentration supported by a lively acidity. Smart and delicious."
Trivento Chief winemaker German di Cesare said
"We are unbelievably moved by this news. Golden's origin are Malbec vineyards planted long ago that have managed to balance their fruit over the decades. This wine is part of our lives."
Trivento is now a Top 15 UK wine brand and growing at 50% by value year on year.*
*Nielsen Scantrak, Total Market, value 52w 08.08.20