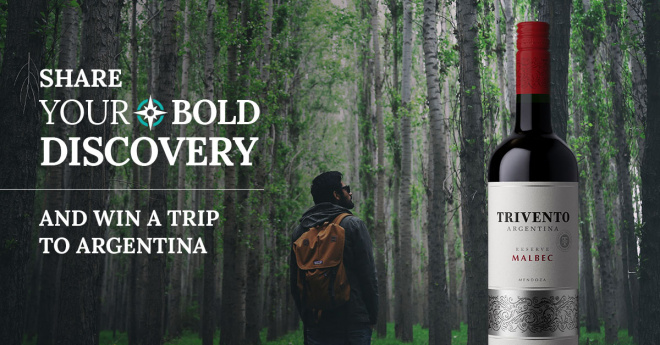 Trivento, the UK's best-selling Argentinean brand, has become a Top 20 Wine brand for the first time, according to Nielsen data just released.
Trivento is the UK's No 1 Argentinean brand, and Trivento Reserve the UK's top selling Malbec. With Malbec now the UK's third most popular red grape variety, sales show no sign of slowing. Trivento sold over 540,000 9 ltr cases in the UK over the past 52 weeks and the latest 12 weeks shows over 80% growth versus the same period in 2018.
Trivento's success is due in part to a successful partnership with Discovery Channel which started in May 2018. Trivento has featured in a series of brand idents across Discovery's documentary channels.
The brand also has a major online campaign in progress, where the public have sent in their own 'Bold Discoveries' to TriventoBoldDiscoveries.com; from the 847 entries received, 3 finalists have been chosen. A winner, to be chosen by public vote, will have their own 'Bold Discovery' immortalised in their own short film, and will also win a trip to visit Argentina, home of Trivento.
Source: Nielsen, Total Market, 52w to 13.7.19