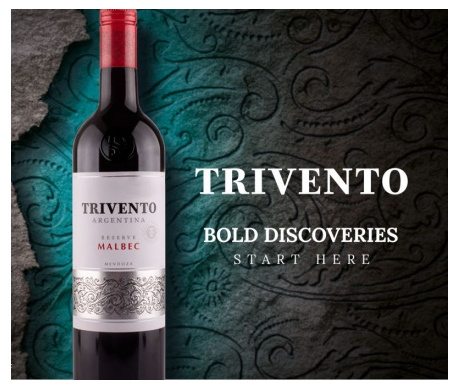 Trivento, the number one Argentinean wine brand**, has notched another landmark in November 2021, as its Reserve Malbec 75cl becomes the best-selling single SKU by value* in the Total Wine market.
Launched in the UK only 8 years ago, Trivento Reserve Malbec has seen consistent and impressive growth, which, backed with substantial marketing investment across satellite and terrestrial TV channels, now places it first in all wine SKUS in this market, worth well over £72 Million over the most recent 52-week period*.
Trivento, which has seen its overall brand sales (+22% by value) and household penetration (now at 7.2%**) both grow at a stunning rate in the past year, continues its major marketing investment in the UK market. A new 20 second ad, the latest in the 'Bold Discoveries' series, has just gone live across catch up (VOD) on ITV, C4 and Sky, featuring Trivento's premium Private Reserve Malbec.
Clare Griffiths, Commercial Director at Concha y Toro UK, says
"We are immensely proud that Trivento Reserve Malbec has become the number one selling SKU in the total UK Wine market. This is the result of a continued and consistent marketing campaign to drive brand awareness and working in partnership with our customers to increase shopper penetration. We remain committed to building our brands and driving category value."
This latest landmark follows the Reserve Malbec becoming the best-selling red wine SKU in May 2021.
*NielsenIQ Scantrack, Total Market, value sales 52w to 6.11.21
**Kantar Panel, 52w ending 31.10.21