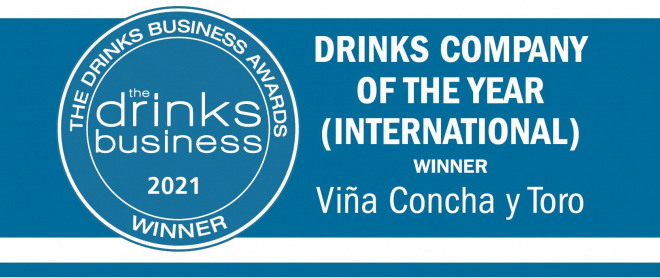 Vina Concha y Toro was recognised at the Drinks Business Awards 2021 in London in September.
Prestigious British magazine The Drinks Business named Viña Concha y Toro as "International Drinks Company of the Year", thanks to its achievements during the last 12 months. Now in its 19th year, The Drinks Business Awards have become the most authoritative, internationally respected badge of achievement in the alcoholic drinks industry This is the second time that Viña Concha y Toro has been named "International Drinks Company of the Year", having also received this accolade in 2015.
"We are honoured to receive this major award, which is a testament to the great year that we have had as a company. Without doubt, these have been challenging times, but they have also revealed new opportunities to adapt and continue increasing our efforts, giving rise to historic results and major sustainability milestones", said Viña Concha y Toro CEO, Eduardo Guilisasti.
The award was announced at a ceremony held in London on Thursday, September 23, in the presence of some of the industry's most influential players, and the full results report will be published in the October issue of The Drinks Business. Chairmen of the judges, editor, and Master of Wine, Patrick Schmitt, commented
"Wowing the judges for its strong brands, sustainable production, and skillful management during the pandemic, Viña Concha y Toro is clearly an increasingly global powerhouse of a wine business. Its flagship label Casillero del Diablo grew in sales during the COVID-19 trading period, while the company continued on its mission to reduce its environmental footprint, not only by striving to cut carbon emissions, but also by improving the biodiversity of its extensive vineyard operations. Among the developments picked out for particular praise this year was the fact that Viña Concha y Toro achieved B Corporation certification, which recognizes companies that meet high standards of environmental management, governance and social performance. As one judge summed up, 'It's a strong company, that's growing profitably, and doing all the right things'".