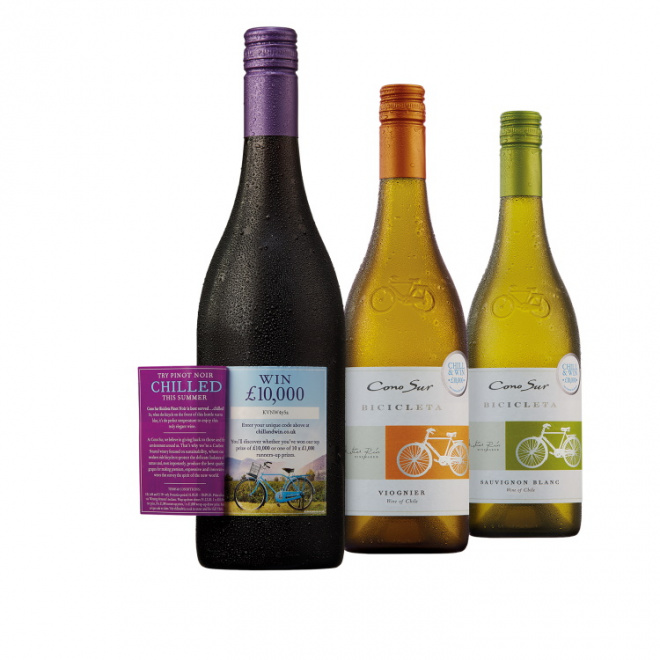 Renowned Chilean wine brand Cono Sur's latest marketing campaign 'Chill & Win' notched up its 50,000th participant this week, and also saw its top prize of £10,000 claimed as UK
wine shoppers jumped at the chance to win big prizes.

The competition was inspired by the success of Cono Sur's 2019 Chilled Pinot Noir campaign, which encouraged wine drinkers to enjoy their red wines chilled during warm summer months. The campaign wanted to show that lighter red wines can benefit from gentle chilling, and Cono Sur's famous bicycle icon on limited edition, heat-sensitive front labels turned blue when the wine was chilled to the best temperature for warm weather enjoyment.

For this year's 'Chill & Win' campaign, the back label on the promotional Bicicleta bottles has a peel-off feature with a competition code which purchasers can enter into a dedicated website. Cash prizes are on offer: five of 10 possible prizes of £1,000 have already been claimed, and the single top prize of £10,000 was won on 14th July by a wine shopper in Poole in Dorset.

The Chill & Win labels feature on thousands of Bicicleta Pinot Noir, Viognier and Sauvignon Blanc bottles.

Heather Jones, Cono Sur Marketing Manager in the UK, says
"We're thrilled with the response to this campaign. 50,000 entries is well ahead of our predictions and helping people understand they can chill their Bicicleta Pinot Noir in the same way they usually chill their Sauvignon Blanc and Viognier."
The Chill & Win campaign continues this summer whilst stocks last.